Your Style #048 - August 2017

Hi there
Because the only good weather we've had this year has been in short bursts, I'm still hoping that Summer is round the corner! But it's vacation time so I've put together a basic Holiday Capsule wardrobe which, apart from the shorts, is basic enough to take you through into Autumn.
I hate to report that Autumn colors are already creeping into the stores. I've been looking at the Pantone colors for Fall and, in spite of what you might think, there are ALWAYS colors around that will suit YOU whatever your natural coloring.
Designer fashion colors are always watered down before they get to the High Street and there will be a variation on a theme of colors. But stick to your guns, follow fashion by all means but always follow your own color direction and choose the shades that best flatter your complexion.
Don't know how to choose your best colors? take a look at the 3 ways to Color Analysis.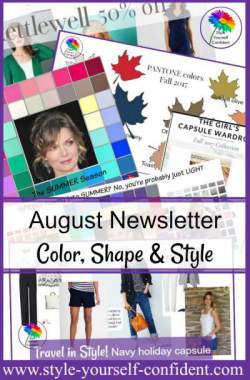 SALE buys that earn their keep...

Do you get carried away in the Sales then find that a fabulous 'bargain' doesn't look quite as good once you get it home? A quality garment that fits into your current wardrobe at a discount price, however, is a real find!
Kettlewell Colours have 50% off many of their basics which will earn their place in your closet all year round. Divine colors that pop straight out of your Color Swatch; jersey, soft-as-silk mixtures and cashmere. See more...

Every season the Pantone Fashion Report highlights the top 10 colors shown by designers in their latest collections. This year there are two palettes, one for New York and one for London. Bearing in mind that these colors are always watered down and variations introduced before they hit the High Street, there really is very little difference between the two color palettes. 
Whatever your coloring, Fall 2017 has something for everyone... read more...

Creating a NAVY holiday capsule is the most useful and practical choice for everyone. No matter your coloring, this will work.
Navy and white forms the perfect base allowing you to add your own Warm or Cool accent colors turning it into a brilliant, vibrant and unique capsule wardrobe. read more...

Because the Seasons are so often analyzed incorrectly, it's a good time to do a breakdown of the SUMMER color palette.
Summer is a 'complex' season because to be a TRUE SUMMER there must be 3 distinct color characteristics to your natural coloring. You must be LIGHT, COOL and MUTED (soft) and if you don't have all those 3 elements then you're probably not a season at all.
An English country garden comes to life.. read more..

Girl's back to school capsule for Fall - 20 items 100 outfits

The first Girls's Capsule Ebook was such a success that Leanne, it's creator, has already produced the Fall version.
In the UK our schoolkids wear uniforms but in the US this is more unusual and can put more of a strain on Mom's pocket when the new school year is looming. I love the fact that the clothes choice is realistic and age related. The perfect gift for a daughter, niece or grand-daughter. 

Q. I did the online test and I think I am the Light color family. Years ago I found out that I am a summer. Can I wear the light colors and the summer colors?
A. You're pretty much in the right direction. You may have been analyzed with the Seasonal method and my free Quiz is based on the Tonal system. It's impossible to be completely accurate with what has to be a generic quiz of course.
The LIGHT color family has... read more...
All your regular Resources...

Not already part of the Email group? add your name below...

Opt in to receive a monthly Newsletter with the latest features and access to the Free Color Analysis quiz, Free Color Personality quiz and exclusive downloads such as the Royal Wedding Style Book.  However you've found us, please stay... pop your email address below.

Think your friends would be interested? please pass it on...

Until next time enjoy your Summer

Pamela x

Please share your comments with us...

Come and join the Style Yourself Confident Group Board on Pinterest?

To be included just Contact Me with your email address...


Return to Top of Page
Homepage >> Your Style Newsletter August 2017 #048