Your Style #047 - July 2017

Hi there
Wimbledon tennis, Henley Regatta, Ascot Races - we're in the middle of the British social season here - and, amazingly, the sunshine is amazing!
Holidays are looming, school is already out for some and we're looking at the sunniest color. And if you think you can't wear the 'power' color of the season, then think again, because everyone can wear ORANGE. In fact, there is no color you can't wear you just need to know how to wear it to your best advantage.
Summer sales are in full swing and the tanks I've featured below are some of the best buys around - a good tank is the base of most capsule wardrobes.
I'd love to see and hear more of you featured in Share Your Style. Just upload a photo and tell us how you cope with dressing for the Summer season wherever you live - there's a choice of a Free Ebook for every entry received.

A tank top is the perfect first layer for any time of the year but, to look your best and feel confident, choose your style carefully.
If you choose a neckline and shoulder straps to suit your body shape, you'll find that this is the most versatile and valuable item in your capsule wardrobe.
A simple garment it may be but you can style it right through the seasons.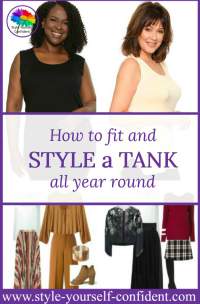 And this is one of the best...

If you've started to Work Your Wardrobe? then you'll know how useful a few tanks can be.
This is one of the best by Covered Perfectly in a breathable fabric, machine washable and non-iron. Up to size XL in 6 colors, it's clever design features side splits that cover a tummy. Made in the US - what's not to love?
Buy 2 get the third FREE and the number of outfits in your wardrobe will dramatically increase.

Spring and Autumn brief

Two new ridiculously inexpensive Ebooks so you can wear and enjoy your SPRING and AUTUMN colors.
Your natural coloring in detail, how to choose your best colors, neutrals and how to co-ordinate; makeup, hair, jewelry etc.
A digital COLOR SWATCH is included and always to hand on phone or Ipad.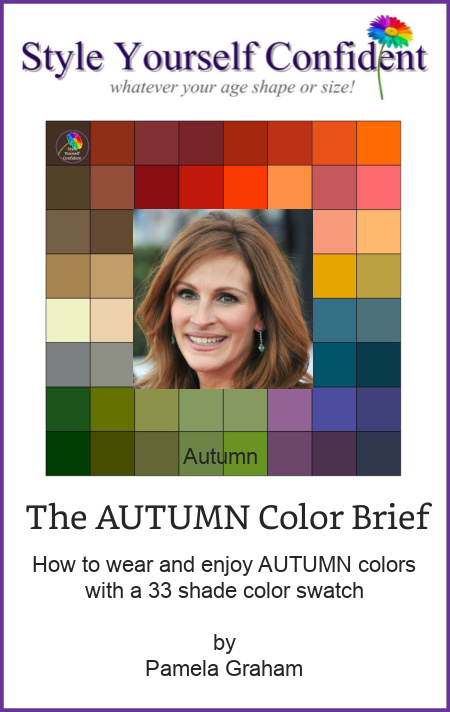 Budding fashionistas? The Girls Capsule

What a clever idea! After raising 2 daughters I'm well aware of how kids have wardrobe ideas far in advance of needs and budget. This is a great little gift that's lots of fun as well as showing how to make an allowance go further. She'll learn how to 'work' her existing closet with the minimum of garments - and achieve up to 100 outfits. 

It features the sort of clothes most girls have in the closet so there should be few extras needed. I don't like to see children in clothes that are too grown up, and these are perfectly chosen to keep Mom and budding fashionistas happy.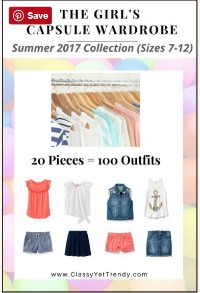 Do you know how to wear ORANGE successfully?
It's the vibrant power color of the year but most of us will either love it or hate it. If it's not in your color palette you'd probably think that this brilliantly hot shade is out of bounds. Not so.
There's no reason to deny yourself a taste or splash of something new and stepping out of your comfort zone once in a while can be a real tonic!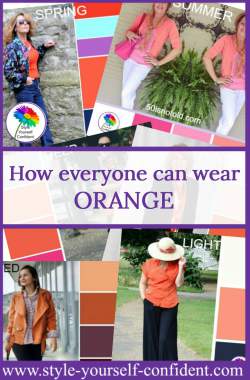 Tuning into the Deep color family

I love to receive catch-up after a Color Analysis. Like many of us Sarah's hair had transitioned into grey and she'd started to wear softer colors. In actual fact her deep eyes and eyebrows have just come into their own.  
Sarah says "I have been exploring more vibrant, deeper colors as indicated on my DEEP swatch samples and have adjusted my makeup towards a tint that more closely matches my natural color.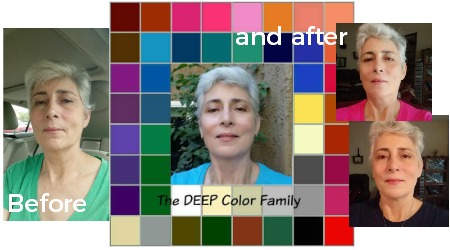 As I'm not the best at ID'ing color, some of these may be a little off but I think they're pretty close to what you recommended and I've been pleased with the results.  All in all, I feel much more confident about my natural coloring.  I think these clothing colors bring my complexion to life."
Thank you Sarah, I couldn't be more pleased to receive your message, you look fabulous!

QUESTION: I'm a petite apple shape with broad shoulders and heavy upper arms and am looking for the right trouser type to pair with a tunic top that ends about an inch above the knee. Have worn it a couple of times with leggings but it looks very disproportionate.

ANSWER: I know nothing to little about Indian clothes, so feminine and graceful, but proportions are the same all over the world! If you are a petite top heavy or apple shaped ... read more...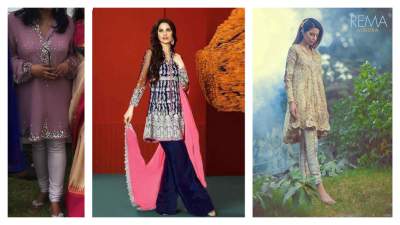 Click to LIKE us on Facebook >>>

Not already part of the Email group? add your name below...

Opt in to receive a monthly Newsletter with the latest features and access to the Free Color Analysis quiz, Free Color Personality quiz and exclusive downloads such as the Royal Wedding Style Book.  However you've found us, please stay... pop your email address below.

Think your friends would be interested? please pass it on...

Until next time - enjoy the Summer
Pamela x

Please share your comments with us...

Come and join the Style Yourself Confident Group Board on Pinterest?

To be included just Contact Me with your email address...


Return to Top of Page
Homepage >> Your Style Newsletter June 2017 #046