Your Style #045 - April 2017

Hi there
Lots of entries for the Color Analysis competition - thank you all - and I'm pleased to feature our winner below, Courtney from the USA. It's always worth entering competitions because each entrant received a voucher which can be used towards an Online Color Analysis.

Because of that life has been busy and I'm preparing for a vacation too so sadly a brief catch-up this month!  Be back with more next time!  

Competition Winner

Courtney from the USA was the winner of the Color Analysis competition. She was aware that her color characteristics were quite confusing but even so quite surprised that the softer tones brought it all into focus. 
Follow me on Instagram to see more color palettes like this.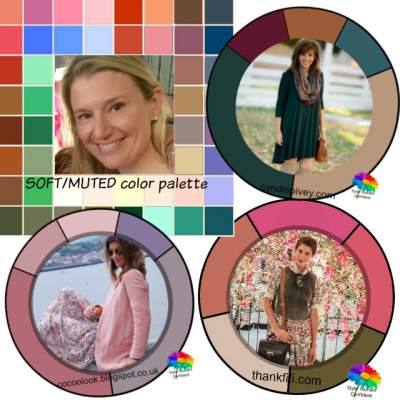 There are now 4 different Capsule Wardrobe ebooks, so whether you're a minimalist, a working girl, a stay at home Mom or even if you're retired there's one for you!
It certainly doesn't mean that everyone becomes a carbon copy of each other. Within the framework of suggested basics (which make up to 100 outfits) you can adjust and tweak to your own colors and shapes while utilising and maximising your existing wardrobe. Clever stuff! !

Wearing makeup colors that harmonize with your natural colorings will flatter, enhance and allow you to look your most attractive.
Tricia has a delightfully easy way to show you how to choose the best colors for your skin.
Yes it's important for me as I head off to the sunshine but Summertime is practically here in the UK anyway. Even if you're not a sun worshipper we need to be aware of the strength of the sun even when the days are overcast.  

This was first published last August but it's back with some great new images showing how some of the best Style Bloggers on the Internet use color in their outfits. 
These images bring the Warm color palette to life.
This is available on Amazon Kindle now at only $4.99

ANSWER: This is what Color Analysis is all about. It provides the answers to whatever you want color to do for YOU!  Every color palette has it's best neutrals and it's best accent colors... and it's a great way to approach your wardrobe building...
Click to LIKE Style Yourself Confident on Facebook >>>>

And if you're not already part of our email group...
you can opt in here to receive a monthly round up of what's going on; Free Color Analysis quiz, Free Color Personality quiz and exclusive downloads such as the Royal Wedding Style Book.  However you've found us, please stay... just pop your email address below.

Think your friends would be interested? please pass it on...

Until next time my love and best wishes

Pamela x

Come and join the Style Yourself Confident Group Board on Pinterest?

To be included just leave your address below or use it for any other comments or questions...


Return to Top of Page
Homepage >> Your Style Newsletter March 2017 #044