Party Wear over 70!

I rarely talk about age - because it simply doesn't matter as long as you're healthy. But today I'm sharing my new party wear - over 70!
It fits beautifully and it didn't enter my head whether it was 'age appropriate'. I mean, is there a reason why Granny can't wear a glittery jumpsuit?
I'll have to ask my grand daughter!
It's not age that should make your decisions for you, it's whether you are complementing your body shape and doing yourself justice! In other words, how you look and most of all how it makes you feel! 
So what is party wear when you're over 70? Exactly the same as always, choose what you like, be comfortable and be happy!
Can your Granny wear a glittery jumpsuit?

This jumpsuit is so soft and comfortable that I couldn't resist it. The top to toe drape and top to toe color are very slimming. Black can be a bit heavy when you're fair, but with the short sleeves and split neck there is sufficient skin on show - and the glitter brightens it all up. 
M&Co glitter jumpsuit
It's difficult for me to get a good fit because I'm only about 5ft 1" and a bit hippy, so when I find a perfect fit it makes me very happy. It's a lovely fit on the shoulders and there's no excess bulk at the waist and hipline. The legs are just a bit long for me so just a small hem adjustment needed.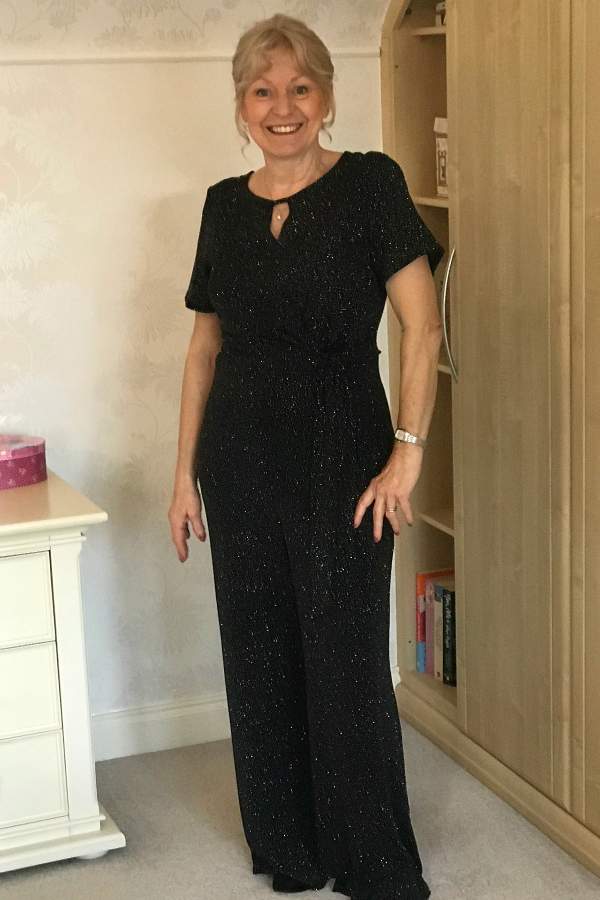 This jumpsuit needs no dressing up and no clever styling so it suits me down to the ground. It's a real put-it-on and forget it kind of outfit so as long as I have something comfortable on my feet it's all systems go. 
I don't have a dress-up kind of lifestyle so versatility is important to me. The glitter jumpsuit is the perfect weight to pack for holidays and for all kinds of Christmas get-togethers without being over dressed. A jumpsuit, very on-trend at the moment, always gives a more casual vibe like trousers - and it's the right price!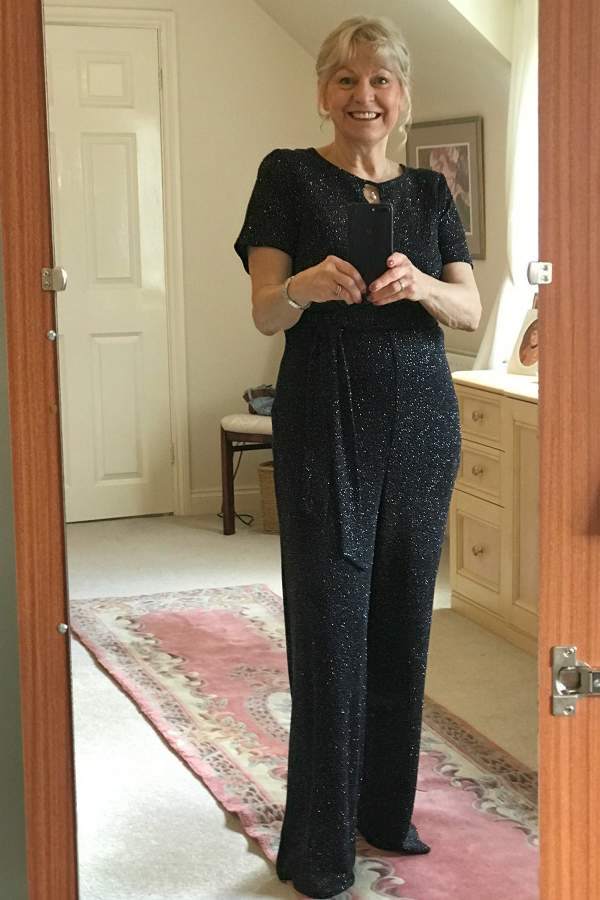 M&Co glitter jumpsuit
We don't celebrate Thanksgiving at home in the UK but, like last year, we're lucky enough to be spending the festivities at an outdoor celebration in Mexico.  
My husband says my glittery jumpsuit is too dressy for a warm weather holiday but I've taken an executive decision and think it will be just the job for Thanksgiving and also perfect when the Christmas decorations appear on December 1st.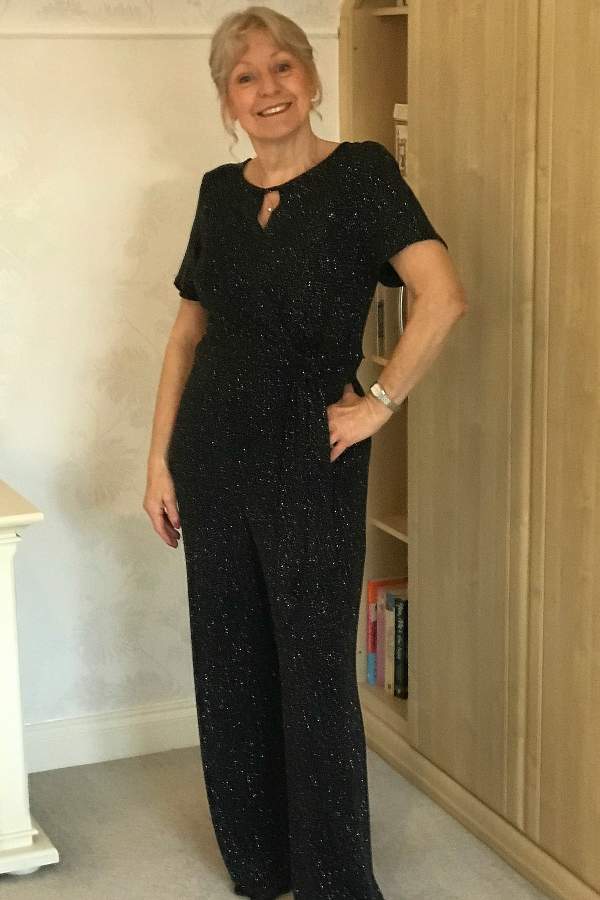 Back home, I won't be cooking the Christmas turkey in my jumpsuit but we have a big family buffet party a few days later when I'll be glittering my way around! And I don't actually know if we're doing anything on New Year's Eve - but I'm ready!!
M and Co. have a range of very pretty party wear pieces whatever your body shape and your taste. 

But if you're taller this one is gorgeous!

I actually sent for two different makes of jumpsuit - this is a beautiful one from Roman Originals with devore velvet. I
If you're taller than me it will look gorgeous but, for me, the shape is all wrong. You'll see clearly why I chose the one I did when I talk about fitting a Petite Pear Shape.
Roman Originals is a brand I frequently check out. They deliver sensible sizing and quality for 'baby boomers' and they too have a wide range of partywear. 

Roman Originals
Roman Originals is a range I frequently check out and the have a great range of partywear. 
They deliver stylish designs designs with sensible sizing and quality manufacture for 'baby boomers' like me!

Just one drawback

I have one other sleeveless jumpsuit which I love for holiday wear but there is just one drawback!
Visiting the ladies presents a slight problem but I either position my husband right outside the door to zip me up and down or, more often than not, ask a kindly face for help. It's always an ice breaker to a new friend when you're away from home!
A slight wobble at 70!
I did have a slight wobble when I hit 70 last year, but I also appreciated how lucky I was to be celebrating such a birthday.
So forget, age, party wear over 70 is exactly the same as always, ready to make you look and feel fabulous.
And never forget that a box of Nice 'n' Easy puts everything into perspective!
Like this Website?
Please share your Comments...
Homepage >> My Style >> Party wear over 70