Pantone Colors Fall 2017
This year, for the first time, the Pantone Colors Fall 2017 report has been produced with different color palettes for New York and London. 
Every season the Pantone Institute highlights the top 10 colors that have been included and shown by designers in their latest collections.
Although this intimates that designers each side of the 'pond' are working more individually there really is very little difference between their range and choice of shades.   

Bearing in mind, as well, that these colors are invariably watered down and variations introduced before they hit the High Street, dilutes the difference even more.

Fashion is a fast-moving industry and new colors and trends are regularly introduced but, contrary to what many people think, your color choice is rarely limited if you want to keep abreast of the latest look.
Both Cool and Warm colors (in one version or another) are invariably included in the top colors of every season.
So whatever the time of year and whatever your natural coloring, there is always something that will co-ordinate with your own color palette.
Pantone Colors Fall 2017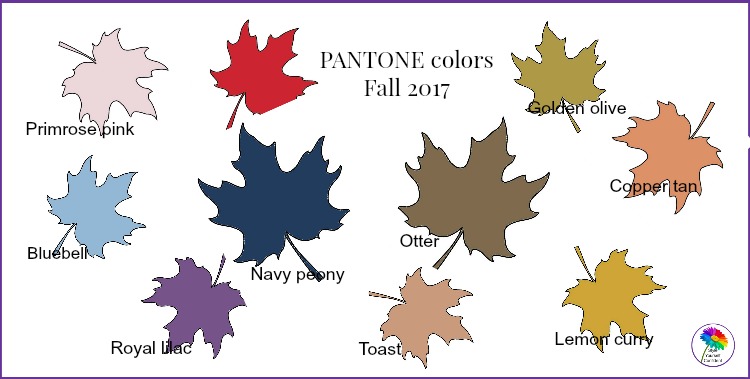 The new Pantone colors Fall 2017 is no exception.  Out of 10 'new colours' that have topped the polls this season, there are versions of Navy blue and Camel.  Both of these eternally useful neutrals sit quite comfortably in both the Warm and Cool color palettes.
Of the brighter and lighter accent colours, 6 are Warm and 4 are Cool so you'll always find something to co-ordinate with your current wardrobe.   
The images above show how you can co-ordinate Navy Peony and Otter into your existing wardrobe whether you have Cool or Warm coloring. 
Of the brighter accent colors, Flame Scarlet and Royal Lilac both tread a fine line between the two spectrums and introduce a richness to the Autumnal tones.  

Colors on the High Street

Are designer clothes worth the money? 
Obviously this is a matter of opinion and, of course, budget restrictions. Many people feel that designer fashion is an investment because you're paying not just for the modish design, cut and excellent fit but also for a quality fabric and surety of color.
High end designers use top quality fabrics which are produced with the very best dyes to hold their color. 

By the time the more outlandish designs are copied and mass-produced for the High Street, the styles will have been adapted to suit a more generalised and less demanding audience.
Reproducing clothes in quantity also means that both the fabrics and the dyes used will be cheaper versions of the original so colors are less individual and less inclined to stand out from the crowd.

Recognise what's best for you!

So however the colors start out in the top-end fashion houses by the time they reach the High Street the range available will settle quite comfortably into the general fashion floor.
OTTER will nestle between the Camels and Beiges and, as with every season, all you have to do is recognize the colors that are best for you.
If you can just identify whether Warm or Cool colors look best on you then it becomes much easier to find your way around the fashion department at any time and you have a head start.
But, I don't believe in limiting your color choice, it just leads to frustration. So if a new color comes along and appeals to you give it a go in a small way!
In other words, as long as you know your best colors, should a fabulous bag with a Lemon Curry flavour takes your fancy, then go with the flow!
Like this Website?
Please share your Comments...
Homepage >> Fall Fashion Tips >> Pantone Colors Fall 2017