Peek-a-Boo 'Vaccine Top'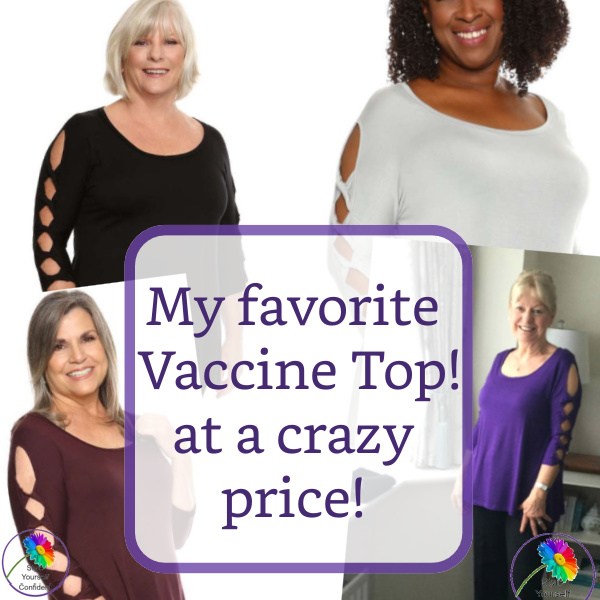 I'm sure you've seen Dolly Parton showing off her split sleeve 'vaccine top' this week. How clever is that? Love that lady!
I never thought to wear my version for the first jab but I shall certainly show it off for the second!
So let me introduce you to the Peek-a-boo top from Covered Perfectly.
Kimberly, the new owner of Covered Perfectly, has this incredible top at the crazy prize of $9.95!  Yes you read that correctly it's down from £59.95 to $9.95! 
She's clearing stock to make way for her new season so grab a bargain NOW!
The Peek-a-boo has certainly earned it's keep in my wardrobe as it teams easily with skirts, pants, jeans and even tucked smoothly into a wide legged velvet pants suit.
I love these natural fibre tops particularly this one with the sassy split sleeves. Not only is it a bit different, but it's the perfect shape for hiding a tummy or a muffin top.  And the stunning violet makes it pretty enough for a party with lots of compliments. 
Casual enough for drinks and low-key get-togethers, there's something a little bit special about the clever twist sleeves which, as Covered Perfectly say, take it 'from simple to spicy!'
For every season...
Violet is a great choice as it's one of the Universal colors and suits just about everyone.
This is perhaps a slightly more sophisticated (read 'mature') version of a 'cold shoulder' top and, without showing too much flesh, it retains a youthful feel.  
I'd never really considered wearing this top in the warmer months but am so pleased I decided to pop it into my suitcase for my holiday in Mauritius.

I fell in love with it all over again when I teamed it with white cutoffs - loving the high contrast of violet and white.
Even in the tropics there are times when you need a little more than a sundress, and the Covered Perfect micro-modal fabric, often called 'the softest fabric in the world', provides the most delicate touch of cover.
The 100% natural fibre (made from European beech trees) allows the skin to breathe naturally even in the humidity of the tropics.

As this photo was taken towards the end of my trip you can be assured that the flowing A-line hides a multitude of sins around the midriff/tummy area - a real bonus!
The Peek-a-Book top was kindly gifted to me by Pauline Durban, the creator of Covered Perfectly, to review for your pleasure over a year ago now.  

So I speak from the heart when I say 'thank you Pauline, it wears well, it washes well, it works for every season and it's earned it's place in my wardrobe'.
Take a look at the Covered Perfectly range, they're all cleverly cut and designed to complement the figures of 'women over 40' - and far beyond!
You can find the PEEK-A-BOO top HERE at this crazy reduced price of $9.95. Grab a bargain while you can!

Special Offers and Shipping

If all that isn't enough to tempt you, Covered Perfectly offer you incredible incentives.
There are plenty of offers on at the moment and once you've proved this company's worth, you'll be happy to return!  
Try a COVERED PERFECTLY top and you'll be sold - what have you got to lose?
Sadly due to Covid restrictions, currently there are no overseas deliveries.