Do you have a Cool skin tone?

Do you know whether you have a COOL SKIN TONE? And does it really matter whether you can identify your natural coloring or not?
Well the world won't come to an end! But, it's so much more flattering if you wear makeup and clothes in colors that are compatible with your natural colorings, particularly your complexion.
A quick test!  Would you choose the roses or the freesias?

| | | |
| --- | --- | --- |
| | | If you have a COOL skin tone, you can find a whole palette of beautiful colors featured in this COOL Color Swatch to enjoy! |
If you chose the pink roses...

You don't have to look like the Duchess of Cambridge, but if you chose the first picture, it's likely that you have a Cool skin tone. You see most of the time you will instinctively choose the colors that reflect your own natural colorings.
The Duchess of Cambridge is a perfect English rose with a pink tinged COOL complexion. She is perfectly complemented by the pink which has a blue undertone like her own.
Your coloring may be very different from this. You could be much lighter or much deeper, you could be softer or have very bright dramatic coloring - but you can still have a COOL skin tone i.e. a blue undertone. Light skin will have a pink tinge or perhaps even be florid at times, deeper skin may even look sallow. 
If you've had Color Analysis then you'll already know your Color Family, if not you might like to check out how Color Analysis works and you can possibly work out your own colors. You don't have to be wary of this, because, most of the time, your color choices will instinctively reflect your natural coloring.
If you chose the golden freesias...

If you chose the golden freesias it's quite likely that you have a WARM skin tone because you're instinctively choosing colors that reflect your own natural colorings. The freesias perfectly complement the warm skin tone of Marcia Cross who has the same warm undertone.

What does it mean to have a Cool skin?

It means that if you have a COOL or BLUE undertone to your skin you will look good wearing colors that also have a Cool undertone. You'll look beautiful wearing cool toned jewelry, silver, platinum, diamonds or pearls.
You are likely to have a Cool skin if...

your skin has a pink tinge

probably a dark rim around your iris

the veins in your wrist are blue

you enjoy wearing pinks and blues


pure or soft white is good on you


strong jewel tones are good

yellow is unflattering to your skin

muddy shades are not good

silver or pearls look beautiful
If you're Cool, you could be Summer, Winter or just COOL

If your cool skin is Light and Soft you could be Summer or if your coloring is deeper and more dramatic you may be Winter. If your coloring has medium itensity then you may just be Cool and most of the Summer and Winter colors are in your palette.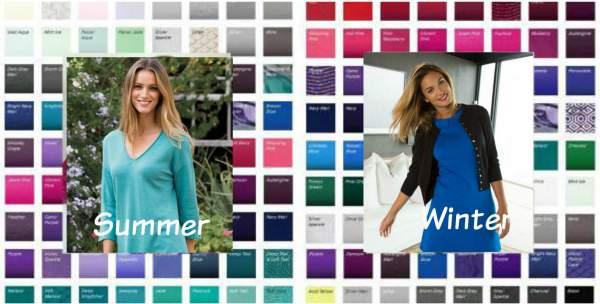 Nature always gets it right

You know - Nature always gets it right! The leaves on the pink rose has a deep blue green leaf from the same Cool color palette - the leaf is designed by nature to complement the rose. The freesias, however, have yellowish green leaves from the Warm palette, both have the same undertone.
Nature actually gives flowers a leaf from the same Color Family so that they harmonize - how amazing is that?
Makeup for Cool skin

Whether your natural coloring is light and delicate or strong and deep, you'll find the tones that are right for you!
Gorgeous shades from pale and hot pinks through to raspberry, plum and damson - all cool tones.

And in your home too...

You're influenced by color far more often than you think every single day. What color shampoo do you buy, washing up liquid, toilet cleaner??? You're swayed by the color of the bottle far more than the perfume.
What about when you move house and you find the color scheme difficult to live with until you've re-decorated? How do you choose your curtains, are they gentle or bright tones, are they more pink/blue/burgundy or more natural, golds and browns?
Makes you think doesn't it? What colors do you have around your home, what color schemes do you feel comfortable with. Everything that you choose will have some reflection on your natural coloring and instinct.

Like this Website?
Please share your Comments...
Homepage >> Makeup Application Tips >> Cool Skin Tone