The Color and Style Makeover competition

Meet the winner!

It seems an age since I introduced you to Di, the winner of our Color and Style Makeover competition at the beginning of the year. But life and the winter snows get in the way of the best laid plans!
Di has struggled with mobility over the last few years after two knee operations so her daughter was a great support when she ventured out for her style 'try ons'.
The competition was presented in conjunction with my friend and colleague Nicole Molders of High Latitude Style.
No matter that Nicole is based in Alaska (!!) body shapes and styling advice are the same the world over.
The winner and the runners-up also received one of my Color Ebooks and Nicole's style book.  
Di's winning entry said:
"I'd like to learn to dress for the woman I've been working to become. I've spent the last 2 years having 2 knee replacements but I'm now well and ready to get on with my life. I want to look like the positive woman I am today so roll on 2018 - this is my year!"
After two years of struggle Di's confidence was at an all-time low so Nicole and I are delighted that we were able to come to the rescue. Color by Style Yourself Confident and styling advice by High Latitude Style... 

Color and Style Makeover but always COLOR first!

Your natural coloring is decided at the moment of conception - it's genetic so no wonder COLOR comes first!
Looking to update your wardrobe or give yourself a confidence boost then Color Analysis is the first step to looking and feeling good about yourself.
These are the photos Di submitted and she says: 
"I'd like to learn how to wear colour, which colours suit me rather than my normal black or navy. I always feel like I look very drab but when I wear bright colors I look like a clown and feel fat. I would like to appear polished, elegant, well dressed and approachable!"
Certainly sounds as though she could do with that boost of confidence!

Her natural coloring:
From childhood Di has had dark hair and, although it's beginning to show signs of grey, she has chosen to apply an ash brown colorant. Soft brown slightly hazel eyes have a grey cast with very dark eyebrows and she has a fair pink skin tone.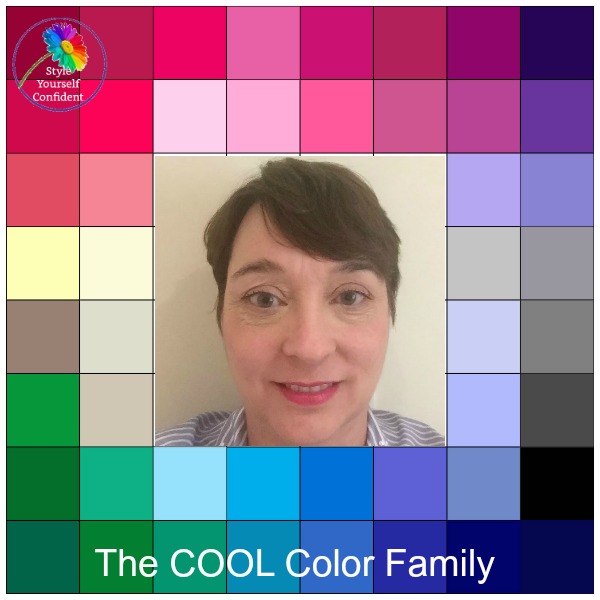 My analysis:
To sum up her color characteristics: the dark hair says DEEP but the fair pink skin tone and brown eyes with a grey rim indicate a blue undertone to the skin which is COOL. Because her eyebrows have remained dark the hair colorant looks completely natural and she retains a high color contrast between her features.  
I determine her coloring to be COOL DEEP which means that the strongest COOL tones will offer the high contrast that her coloring needs to enhance her coloring.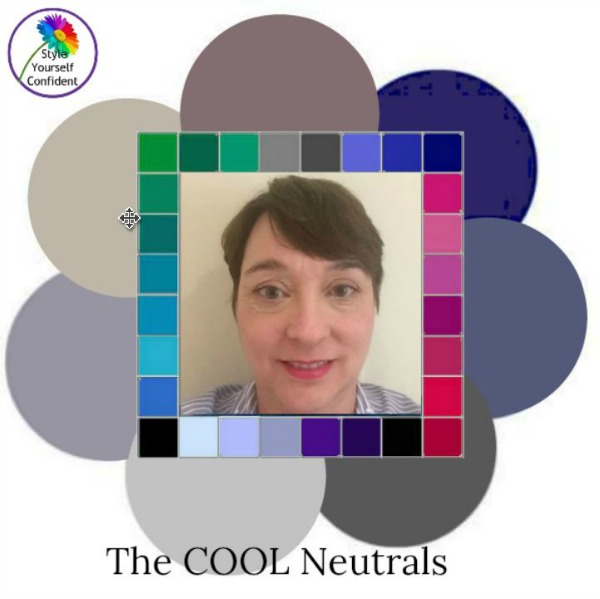 How to wear your COLORS:
With a wardrobe full of navy she has absolutely the best jumping off point! The strongest COOL shades, which I highlight above, are the best ones for Di and navy is the perfect neutral to start with as she has lots in her wardrobe already. 
This shows the beautiful selection of jewel tones she can begin to introduce perhaps just  as accents initially until she feels more confident to wear bigger blocks of color. 
It's great because she is instinctively choosing a lipstick that's straight out of her color palette and she hadn't even realized! Knowing that you've got it right is so encouraging and she's already feeling more relaxed and trying more color mixed in with her basic navy co-ordinates.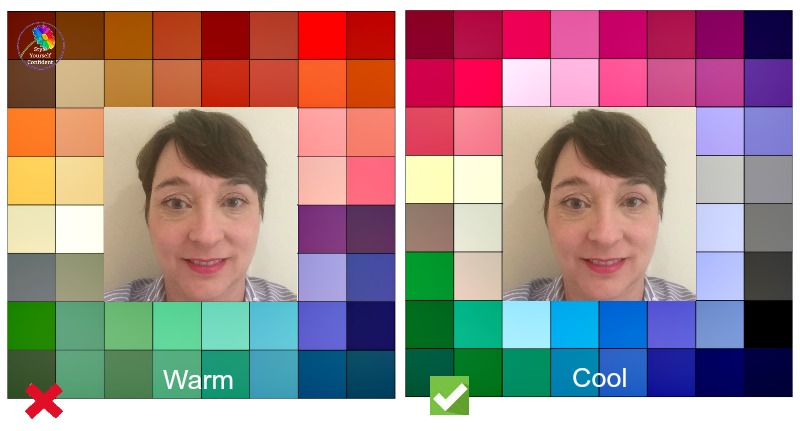 Colors to choose and those to avoid: 
This is Di's photo tried against both the Warm and the COOL color palette. 
All the colors in the COOL color palette have the same blue undertone as Di and her pink skin tone 'connects to all the colors. All the colors in this palette have the same blue undertone and they create harmony with each other too.  
When natural coloring is echoed in your clothes and makeup it creates 'color balance' and is pleasing to the eye. 
With COOL coloring colors with a yellow or golden undertone such as orange tones or gingery browns (as we see on the left above) should be avoided as they can create an unhealthy glow against her complexion. 
My Online Color Analysis is different to other online services because I take into account your genetic background as well as your current natural coloring which allows me to make a detailed explanation. Or for a taster try my Free Color Analysis quiz!

Homepage >> Color & Style Makeover