Color Analysis Winner

Let me introduce Helen, our Color Analysis Winner from last month's competition.  
We couldn't have a more worthy winner (drawn at random) as Helen has continued tirelessly throughout the pandemic in her job as a therapist for adults with various mental disorders. There have been major adjustments due to COVID of course with many sessions online rather than face to face.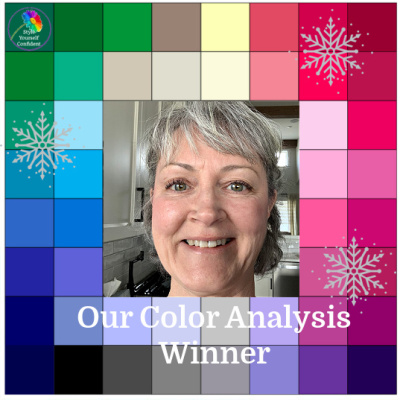 She says:"I am finding the clients who struggle the most are those who live alone and are more isolated. I spend time problem-solving how they can cope with isolation and still maintain some sense of connection and meaning. All in all, I think people are generally doing amazingly well with this new way of life!
So, really, my job hasn't changed that much, except for the addition of more technology and lots of disinfectant!"
Although I'm sure she's down-playing the problems, I hope that winning Color Analysis has provided a small but well deserved treat! And no matter that Helen lives in Canada because the information and advice that comes with Online Color Analysis is delivered worldwide - and it lasts a lifetime! 
Always Color first!

Natural coloring is decided at the moment of conception, it's genetic, so no wonder COLOR always comes first! Whether you want to update your wardrobe or need a confidence boost, Color is the first step to looking and feeling good about yourself. 
I asked Helen to complete a questionnaire and send a few photos. The information about background, heritage, childhood coloring etc. together with photos enabled me to put color theory into practice. To support the theory I created lots of images rather like a 'virtual' draping as though she were actually with me - only better!
How I analyzed Helen's coloring
From childhood Helen's hair was very dark and transitioned into an attractive steel grey at quite an early age. She retains well defined, but not deep, eyebrows - this indicates a COOL undertone to her hair and a good but medium contrast. 
Very clear and sparkly eyes of a quite unusual color, blue/grey with a hazel centre. A deeper grey rim confirms an overall grey cast to the eyes. Together with a fair pink toned skin which is sensitive to the sun and blue veins, it all leads me to believe that her eyes and skin tone are also COOL. 
There is a vibrancy to Helen's coloring which grey hair has by no diminished. Although she used to color she stopped due to high maintenace and upkeep costs, only to discover that she actually loves her grey!
I think it's made her coloring and contrast even brighter! 
I establish in early images that Helen responds best to COOL colors and, with both Tonal and Seasonal Color Families, there are several directions to consider. I create lots of images to thoroughly determine the most flattering color palette. 
Working with both Tonal and Seasonal

For many people having a COOL skin would point to being either a Summer or Winter but I believe both of these color palettes are far too restrictive for Helen. 
SUMMER and WINTER are what I call 'complex' Color Families; a mix of 3 specific elements which have to be present to actually create the palette. 
SUMMER is a mix of LIGHT, SOFT and COOL
WINTER is a mix of DEEP, BRIGHT and COOL
Overall the SUMMER palette appears too dusky and soft for her and does not afford her coloring the definition and contrast that her brightness deserves.   
The WINTER palette appears too harsh – the lights and deeps, highs and lows are too sharp and overall too heavy.
A series of images take me through lots of both Tonal and Seasonal color palettes to assess and discover the perfect fit for Helen's coloring. It is the center point of the COOL spectrum where Helen's photo finds the best balance. Not with the Seasons! 
The COOL Color Family is one of the pure TONAL Color Families. It has just one primary color characteristic, not a mix like the Seasons. Although the Cool palette includes some shades from both Summer and Winter, it excludes the elements that are not needed.  
The best way to wear her colors
The blue undertone adds a crispness and strength providing the contrast and clarity that Helen's coloring demands. There are both soft and strong shades within the Cool palette which allows choice according to mood and occasion.
While the classic neutrals will provide the base for wardrobe essentials, the fabulous accent colors will bring it all to life - perfect for both a business casual and leisure wardrobe.
For a lady who loves strong vibrant colors what could be better!
The colors for Helen to choose
Helen's natural coloring is COOL i.e. she has a blue/cool undertone, and Color Analsis works when this characteristic is echoed in the colors she wears.
The COOL color palette has an entire spectrum of colors which blend and harmonize with each other ready to fully complement Helen's natural coloring.
A stunning mix of pinks, purples, blues, greens - any color you can think of and every one looks fabulous within it's Color Family! You're not limited with a color palette like this because, just like an artist's palette, there are literally hundreds of shades between each color.  
And those to avoid
Cool colors have a blue undertone so anything on the Warm side of the Color Wheel is completely alien to Helen's natural coloring. 
Yellows, oranges, gingery browns etc. will never look good against a Cool skin, even a rich cream can look sickly. 
It's also best to avoid the palest wishy washy colors and dull and dusky earth tones will flatten her clear complexion. 
Years ago when I worked face-to-face I would have said that was the only way. But since I've worked purely online I know that I do a far better job now than I did then. 
Several reasons: I never rush so have more time for things to click around in my mind; I have everyone's natural coloring, background, heritage, viewpoints etc. in front of me to which I can keep returning; I see what's happening in images; I have more than one photo which often shows skin tone in different lights; and I can explain fully exactly what is happening via the images I produce. Moreover the client sees what's happening and is assured that it's not just me 'telling' her what I think, it's what she can see! 
Seeing all the images gives us both time and opportunity to reflect on what is recorded. When you're face to face it's difficult to pin down what is seen at a particular time and to remember what has been said. The most important thing is that YOU are connected to a color palette that allows you to feel comfortable and to feel like YOU. And, remember, a color palette is never finite it's merely the beginning!
Allow 'Your Style' to visit you!
The latest features on Color Analysis, Body Shape and Style to your Inbox, twice monthly.
Plus a Free copy of my book 'Shortcut to Style', it works for you, whatever your age shape or size! 
Pamela x
Sitemap or locate all features relating to...
Homepage >> Color Analysis Winner