Hi there



I don't like the sound of BLACK FRIDAY so I've decided to celebrate THANKSGIVING THURSDAY!

Although I'm currently on a sandy beach with a glass of something sparkly at my fingertips I didn't want you to miss out on a few very SPECIAL OFFERS!



The GYPO Style Challenge
The brilliant GYPO Style Challenge pulls you out of the wardrobe rut and shows you how to create a basic capsule for any occasion.

An ANNUAL MEMBERSHIP is available for a limited time at a very REDUCED PRICE for both...

The SEASONAL CASUAL CAPSULE 2019 - All 4 Seasons - Shop your closet then identify the add-in pieces you need to create mix and match outfits that work.

and the WORK WEAR CAPSULE WARDROBE - All 4 Seasons in 2019 - You'll never be late for the office again with this fabulous wardrobe plan.



Covered Perfectly tops - Buy 2 get 1 FREE
Now although I'm a lover of all things LEOPARD I do like it to be subtle!

So team a touch of animal with the fabulous tops from Covered Perfectly and they (and me) are on to a winner!

Something special to wear for the HOLIDAYS and a useful layering piece for the cold weather all rolled into one.

Time to treat yourself!



Color Analysis Gift Vouchers - £10 off!
While I'm away and up until 6th December 2018 there's a big reduction on the price of a GIFT VOUCHER for ONLINE COLOR ANALYSIS.

Reduced by a massive £10.00 that's 16.5% ready for a Christmas gift or treat for yourself. To be redeemed from 1st Jan 2019 (valid for 1 year).



CLICK on the image to access these offers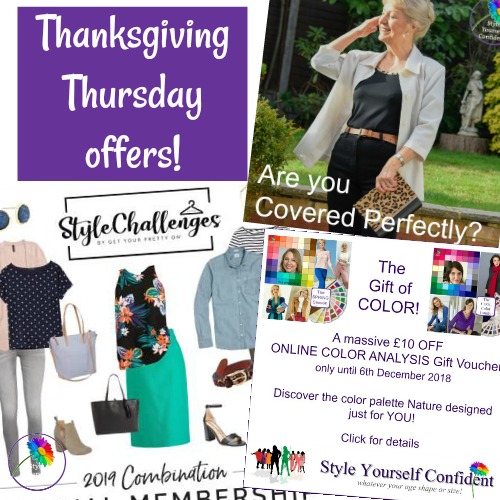 See you there..
Pamela x