Hello



Have you had difficulty in finding your own Color Family and discovering your best colors? Well, from next month Online Color Analysis will be available to give you the help you need.


To celebrate, in advance of the launch, I'm delighted to offer one lucky reader the opportunity to win a personalized Online Color Analysis together with a fabulous FULL COLOR FABRIC SWATCH.

You'll also receive a 22 page Color Profile with lots of information about how to recognize and wear your colors, how to co-ordinate, makeup, jewelry and how to build a wardrobe for you and your lifestyle.
I'll also send you a personal letter answering any queries you have about your colors and wardrobe.

The whole prize is worth over £55.00 and the winner will be chosen at random. If you've already had Color Analysis, you can gift it to a friend or family member.

I will notify the winner very soon and let you know the results next month. Good luck!



This seems a very apt moment to ask you if you know what Color Analysis is all about?


Do you know the benefits of Color Analysis? If not this is a great time to take a look at the Frequently Asked Questions. Most of your queries will be will covered but if you have additional queries please enter them in the Comments Box at the bottom of the page.

I hope it will wet your appetite to try to find your own Color Family.



I'm afraid the launch of Online Color Analysis has been delayed just a little as my husband (bless him) is whisking me off to Italy for an anniversary holiday.
It's a country I've never visited and I really cannot wait. As you know I always simplify holiday packing but this time I'm cutting back on casual wear and adding a couple of simple dresses which will do for day or I can dress up for evening. I'm expecting to be wined and dined!


Hopefully, with camera at the ready, I'll bring you a snapshot of Italian style in the next issue.




Have you taken advantage of the FREE downloads currently available to you as a Newsletter subscriber?


Click into Newsletter and take the link at the top of the page where you are directed straight through to access the Downloads. In case you've forgotten you will need to enter the password EXCLUSIVE.

You can download succinct details about all the Color Families and print out an 18 shade Color Swatch Fan. The Wedding Style book of the Duke and Duchess of Cambridge is also still available for a while.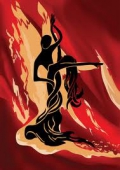 September is a great time for new beginnings - the start of the new school year gives extra freedom to many of you. But for all of us the opportunities are out there for evening classes or clubs starting their Autumn program. So why not make this a September challenge?

What about trying a new language or something practical? You'll make new friends with similar interests and a new skill will boost your confidence. Even better, how about getting fit at the same time and trying Zumba or Salsa?


We often ask What is Style? Confidence on the dance floor? Now that's STYLE!

Please forward this Newsletter to friends you think would enjoy it, particularly if you think they might be interested in the Color Analysis offer. If a friend did forward it to you and you've enjoyed it, please subscribe here!