Hello




Wow, summer has finally come to the UK! We're ecstatic about our Wimbledon win; full of strawberries and cream and loving our short-lived barbecue season! Unfortunately though, when the longed-for weather does arrive, few of us cope with it elegantly!

The fashion mags are full of luscious colors but usually in cutesy little numbers, few of them remotely flattering unless you're a perfect size 6 or haven't yet reached your 24th birthday! For most of us, suddenly exposing our limbs after a 10 month cover-up, demands some fast-track confidence boosters.

For COOL CONFIDENCE – read COMFORT! I've put together a few Summer Beauty tips which I hope will help to solve some of your hot weather problems. Read the whole article article at Summer Beauty Tips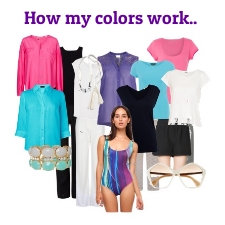 We love to visit the American National Parks and like to finish our trip in Las Vegas where we have family. Although I adore this kind of traveling, initially the thought of living out of a 'sensible' sized suitcase whilst coping with all eventualities, really did fill me with horror!

But by choosing a few colors that work together and a little careful planning, you can Simplify Holiday Packing and travel light knowing that you're looking your best all the time!



My own challenge for July was going to be losing 4 lbs! Unfortunately, life has been full of family illness and hospital visiting for a while so I'm going to rejoice in my own good health and just enjoy the summer! I'm going to host my usual big family party in August, eat what I like and worry about my short-comings in September.

I hope you're able to do the same, let's relax and count our blessings - our glasses can always be half full rather than half empty!



Talking about choosing colors for your holiday wardrobe might have made you think about your own COLORS. Have you been able to Do your own Color Analysis? and worked out the colors that feel and look right for you? I hope so because it really will give you a buzz!

Need a bit of help? Well, next month I'll be introducing ONLINE COLOR ANALYSIS and all my Newsletter subscribers will receive the offer of a SPECIAL INTRODUCTORY PRICE!

Your Color Family can be TONAL or SEASONAL dependent on your natural coloring, but Online Color Analysis gives you:

** your personal color and wardrobe queries answered


** your complete Color Profile (about 22 pages)


** all the shades from your Color Family all ready to print out

** a fabric swatch is an optional extra at any time

All you have to do is complete a short questionnaire and send me a photograph! Within a few days everything will drop into your Inbox!

I always offer an unreservedly Money-back-guarantee on any service so I hope you feel secure in putting your trust in me!




Please visit our Facebook page and LIKE IT, and SHARE it with your friends. I'd love to have your input, your views on this Newsletter or hear about your own holiday challenge.

Please forward this Newsletter to friends you think would enjoy it, particularly if you think they might be interested in the Color Analysis offer. If a friend did forward it to you and you've enjoyed it, please subscribe here!