Your Style #036 - June Newsletter

Hi there
Afraid I've missed one Newsletter because it's been such a busy time. You may have noticed that the whole website format has changed and although a lot of work has been done behind the scenes there's still a great deal more to do to ensure that everything functions properly.
At the same time I have been and will be continuing to do a lot of very necessary updates and revision. I'll never be a journalist or a 'techie' but even I can see how much the information and presentation has improved in 3 years. Taking one step at a time I've achieved far more than I thought I was capable of - a bit like the whole concept of Style Yourself Confident really! Please bear with me if some of the pages are not quite 'there' yet.
So.. to celebrate the new look website - just for this week - I've got a very special SALE OFFER for Color Analysis - and I've designed a new Body Type Quiz to solve your shape dilemmas. Enjoy! 
Blooming June Special - 20% off Personal Color Analysis
To celebrate my new website I'm offering an all-time special price ONLY to the readers of this Newsletter.
Buy 1 Personal Color Analysis plus 1 Gift Voucher for £72 - that's 2 complete Personal Color Analysis' for £38 each. 
If you've been thinking about treating yourself, this is the time to do it - and buy a gift for someone special. You can, if you wish, opt for 2 Gift Vouchers.   
NB Gift Vouchers are valid for up to a year. Offer closes midnight Friday 3rd June 2016 PST
(Click HERE for Special Offer)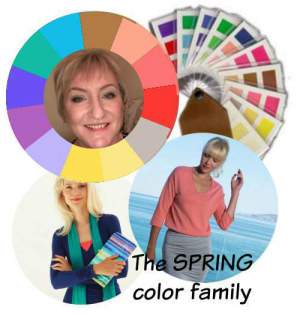 Personal Color Analysis Special Offer
We've all seen ways to recognize your body shape or body type but it's still something that many women find difficult. Well I've made it really simple with the new Body Type Quiz. Just 2 simple steps guide you to your generic Body Type and then to the basic shapes that will flatter your figure.
The 5 Body Types are determined by bone structure and have nothing at all to do with weight. Everyone's individual body shape is different of course and we all have our particular 'problem' areas - but this is your important starting point!
How to look this fabulous now you're 40, 50, 60 or .......
I told you a little about Look Fabulous Forever last month, it's makeup that's specially formulated for mature skins and I'm loving it. 
The foundation and concealer especially, help to solve all the problems we face with ageing - blemishes, dry skin, discoloration.
Take a look at these magical makeovers - or click on photos to see more. 
You just need to find the right shades to flatter your complexion and harmonize with all the other shades in your Color Family.

Grey is often an under-used neutral but it's extremely versatile and perfect for every wardrobe.
But it's easy to choose the best shade of grey once you see how it works. read more...
Can you wear Autumn colors in Summer? You certainly can!
A lady told me that she couldn't find her Autumn colors in the warmer months and how disappointed she felt. 

Well there's no reason to feel left out for any occasion or any season because you can always find colors around that will suit you. You just need to know how to recognize them.
Richly blended Warm tones of Autumn translate themselves so easily into the exotic tones of a Caribbean sunset!

Style Question of the month
Each month I feature one of the questions from my postbag. Although I can't analyze your colors on this page I can offer some help with most things that relate to looking or feeling good.

You can Ask your Style Question here..
This month's question: Can you create more than one 'right' effect when wearing your colors? 
| | | |
| --- | --- | --- |
| QUESTION: I get comments that a certain color gives my appearance a "soft focus" effect. It sounds great, since soft focus is often used in photographs to enhance beauty, but aren't your best colors supposed to give you more... | | High and Low Color Contrast |
ANSWER:
Yes there is more than one effect you can get from your colors. It has a lot to do with contrast... 

Look at your natural coloring and decide where you sit within the whole color palette. Is your coloring lighter or deeper? Is it bright or soft? read more...  

"Girls with dark brown skins are always assumed Warm"
"I've always hated shopping for clothes (yet I'm a woman and that's the strange thing). I'd always feel overwhelmed with choice as soon as I walked into a store, I felt sick. I had ideas of styles but it's the COLOURS! I wished I could just go into a shop and just KNOW which colours to go for.

I would never think myself as COOL (girls with dark brown skins are always associated with warm) and moreover that deeper colouring from cool palette suits me best.
It was as if a cloud had been lifted and I could see all my mistakes! I never dared to wear pinks before now I love them" read more...


And if you're not already part of our email group...
you can opt in here to receive a monthly round up of what's going on; Free Color Analysis quiz, Free Color Personality quiz and exclusive downloads such as the Royal Wedding Style Book.  However you've found us, please stay... just pop your email address below.

Think your friends would be interested? please pass it on...

Until next time
Take care

Pamela x

Come and join the Style Yourself Confident Group Board on Pinterest?

To be included just leave your address below or use it for any other comments or questions...


Return to Top of Page
Homepage >> Your Style Newsletter June 2016 #036